Correction: Ginsenoside Rg3 induces apoptosis and inhibits proliferation by down-regulating TIGAR in rats with gastric precancerous lesions
BMC Complementary Medicine and Therapies volume 23, Article number: 65 (2023)
Correction: BMC Complement Med Ther 22, 188 (2022)
https://doi.org/10.1186/s12906-022-03669-z
Following publication of the original article [1], the authors identified an error in Figs. 3 and 5. The correct figure and explanation of the corrections are given below.
In Fig. 3 the following were corrected:
1.

We found that pictures of Folic acid, M-Grg3 and L-Grg3 in Fig. 3 were misused. We re-selected the typically representative images of ROS in Fig. 3C, and the selected images were more representative. This operation does not affect the scientific conclusion.

2.

The blue channel is DAPI and the red channel is DHE. And the DAPI and DHE were mis-labeled with each other in the present Fig. 3. We thus have re-labeled them in the right place in new corrected Fig. 3.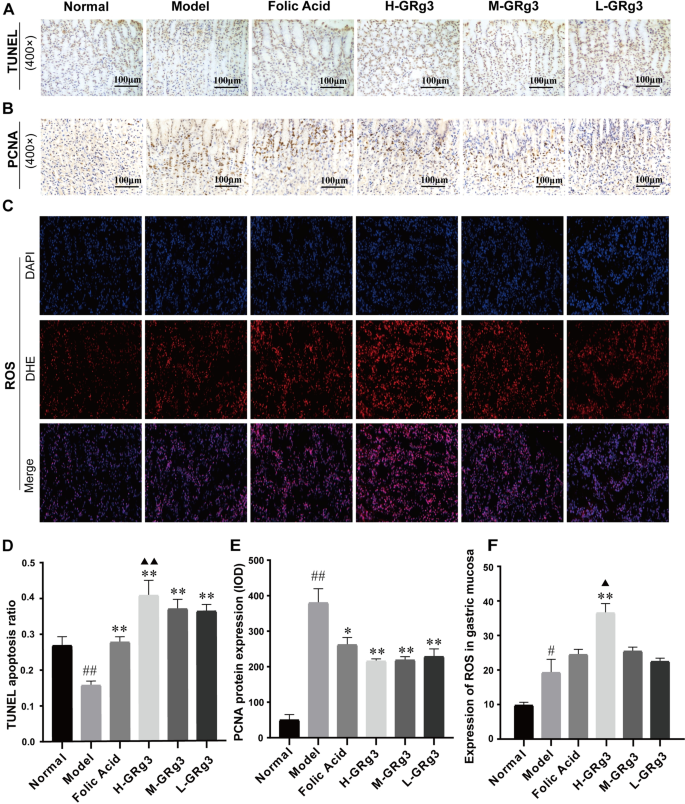 Also the following corrections were made to Figure 5:
1.

The magnification of Fig. 5D should be 400× instead of 100×

2.

After careful checking for full raw data and recalculating the data, we found that P value label should be "##" or "**" instead of "#" or "*" in Fig. 5E and 5F. This operation did not change the scientific conclusion.

3.

The word "noramal" was corrected to "normal".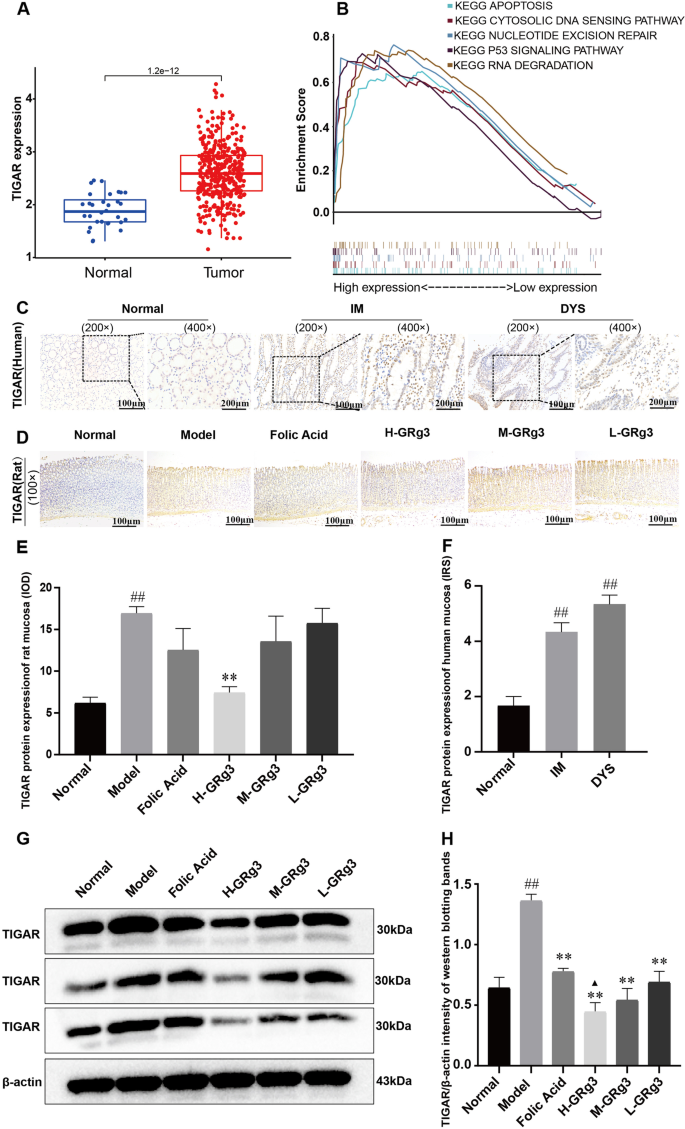 The original article has been corrected.
Reference
Lv S, Chen X, Chen Y, et al. Ginsenoside Rg3 induces apoptosis and inhibits proliferation by down-regulating TIGAR in rats with gastric precancerous lesions. BMC Complement Med Ther. 2022;22:188. https://doi.org/10.1186/s12906-022-03669-z.
Rights and permissions
Open Access This article is licensed under a Creative Commons Attribution 4.0 International License, which permits use, sharing, adaptation, distribution and reproduction in any medium or format, as long as you give appropriate credit to the original author(s) and the source, provide a link to the Creative Commons licence, and indicate if changes were made. The images or other third party material in this article are included in the article's Creative Commons licence, unless indicated otherwise in a credit line to the material. If material is not included in the article's Creative Commons licence and your intended use is not permitted by statutory regulation or exceeds the permitted use, you will need to obtain permission directly from the copyright holder. To view a copy of this licence, visit http://creativecommons.org/licenses/by/4.0/. The Creative Commons Public Domain Dedication waiver (http://creativecommons.org/publicdomain/zero/1.0/) applies to the data made available in this article, unless otherwise stated in a credit line to the data.
About this article
Cite this article
Lv, S., Chen, X., Chen, Y. et al. Correction: Ginsenoside Rg3 induces apoptosis and inhibits proliferation by down-regulating TIGAR in rats with gastric precancerous lesions. BMC Complement Med Ther 23, 65 (2023). https://doi.org/10.1186/s12906-023-03882-4
Published:

DOI: https://doi.org/10.1186/s12906-023-03882-4